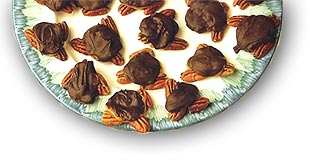 Carmel Turtles
1C margarine
2C brown sugar
1C light corn syrup
1 1/3C sweetened condensed milk
1t vanilla
3cups pecan halves, whole almonds
Chocolate, melted over a double boiler
1. Melt margarine over medium heat in a heavy bottom medium saucepan. Stir in brown sugar, corn syrup and condensed milk.
2. Cook, stirring occasionally until the hard ball candy stage (15-20 minutes).
3. Remove caramel from heat and stir in vanilla. Have a cookie sheet buttered and nuts placed on the cookie sheet in a turtle position… drop the caramel by tablespoons onto nuts and allow to cool until firm.
4. Dip caramels into melted chocolate or spoon chocolate on top of turtles. Allow to cool completely and then place turtles in a closed container in a cooled place.
Paige's Favorite Meringue

4 egg whites, room temperature

1 t vanilla extract

¼ t cream of tartar

Pinch table salt

1 cup sugar

1. Preheat oven to 200°. Place egg whites, vanilla extract, cream of tartar, and salt in the large stainless steel bowl. Begin whipping with an electric hand mixer set on medium speed.

2. Whip until soft peaks form about 6 minutes (this could vary depending on the power of your mixer). You have soft peaks when a spoonful of whites makes a peak that stands up but isn't stiff.

3. Increase speed to medium=high and begin adding sugar 1 T at a time; beat 20-30 seconds between additions to dissolve. It takes about 9 minutes to blend in sugar and achieve stiff, glossy peaks.

See if the sugar has dissolved adequately by rubbing a small amount between your fingers. A few grains are okay, but if there's a lot, beat whites about 30 seconds more. Avoid over beating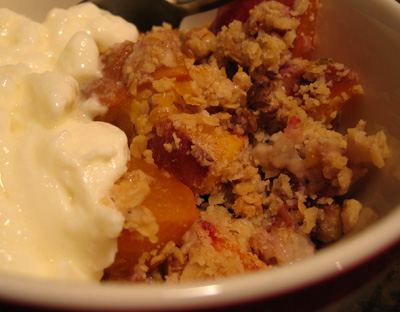 Old-Fashioned Peach Crisp

5 cling peaches (2 lbs.), peeled and cut into medium slices
½ t grated lemon rind
1 T lemon juice
1/4C granulated sugar Yields: 6 servings
1t ground cinnamon
Pinch ground nutmeg

For the topping:
3/4C cups flour
¼C + 2T granulated sugar
¼ C + 2T light brown sugar, packed
¼ t teaspoon salt
½ C oatmeal
6 T cold unsalted butter, diced

Preheat the oven to 350 degrees F. Butter (or spray pam) on a 8x8 baking dish.

Peel, and cut the peaches into medium wedges. Combine the peaches with the zest, juice, sugar and spices. Pour into the baking dish.

To make the topping, combine the flour, sugars, salt, oatmeal, and using a pastry cutter, cut in the cold butter until the mixture is crumbly and the butter is the size of peas. Scatter evenly over the peaches. Do not press in

Place the crisp on a sheet pan and bake for 30-45 minutes until the top is brown and the peaches are bubbly. Serve warm with whipped cream or ice cream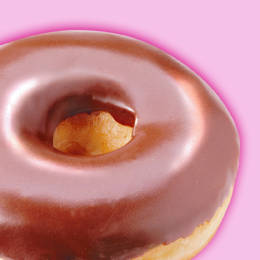 The Best Ever...Donuts
2 T dry active yeast
1/2 C lukewarm water (test on wrist)
1 C vegetable oil
1 C milk
3/4 C sugar
5 egg yolks
5 C boiling water
1/2 t salt
12 to 13 C flour, or as is needed to make a soft dough

1. Sprinkle the yeast over the lukewarm water and stir gently to mix some of the yeast with the water. Cover tightly with plastic wrap until foamy (10-20 min.) If it does not foam that means the yeast was already dead or you killed it!!

2. Pour the boiling water over the oil, sugar, milk and salt. Cool to lukewarm (test on wrist first, after it cools for 15 or so minutes) before adding the eggs. If you add the eggs too soon, you will cook the eggs.

3. Beat egg yolks in a small bowl before adding to the oil, sugar and milk mixture. Combine thoroughly.

4. Start with stirring in 9C flour with a wooden spoon, then add as needed. The ball of dough should be somewhat sticky but never dry. Put flour on your hands and work the dough in a kneading motion until soft and pliable.

5. Put the ball of dough in a clean large bowl that you have put 1T of oil in the bottom. Flip the ball in the oil so that it covers the top and sides (a crust will not develop on the dough if well oiled) and wrap tightly. Let rise about 2 hours or until double in size. We usually let it rise in the refrigerator overnight.

6. Take dough out of refrigerator and let rise 1/2 hour before cutting into doughnut shapes. Let doughnuts rise until almost double before frying at 375 degrees until golden brown on both sides. Drain on paper towels as soon as it comes out of the hot oil.

POSSIBLE TOPPINGS: As soon as they are fried, drain on a paper towel and then roll into the sugar/cinnamon sugar. Allow to cool somewhat before dipping one whole side into the glaze. Set on a cooling rack to cool…. if they last that long!!

a. Sugar topped

b. Cinnamon sugar topped

c. Maple glazed

d. Vanilla glazed

e. Chocolate glazed