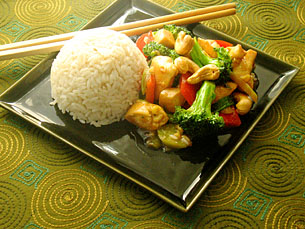 1/2 cup canned low-salt chicken broth Serves: 4
5 tablespoons soy sauce
2 tablespoons dry Sherry

2 skinless boneless chicken breast halves,

cut crosswise into 1/2-inch-wide strips

1 tablespoon cornstarch
2 tablespoons vegetable oil
4 large garlic cloves, chopped
1T + 1 ½t chopped peeled fresh ginger
2 cups broccoli florets, blanched and shocked
1 red bell pepper, thinly sliced
½ small onion, thinly slice
½ C chopped cilantro

1 chili, finely chopped

Large pinch of dried crushed red pepper
Hot cooked white rice

1. In a bowl, whisk chicken broth, soy sauce, sherry and chicken together. Refrigerate overnight to allow the flavors to marinade the meat.

2. The next day, remove the chicken from the marinade with a slotted spoon. Add the cornstarch to the marinade and mix until no lumps are present.

3. Heat vegetable oil in a wok over high heat. Add garlic and ginger and stir until fragrant, about 30 seconds. Add the broccoli florets, bell pepper, onion and the 2 chili and red pepper flakes, if desired. Stir-fry until vegetables are crisp-tender then, remove from wok and put in bowl.

4. Add a little oil, then the chicken to the wok and stir-fry until white, about 2 minutes. Add the marinade to the wok and cook until bubbly, finally adding the vegetables. The sauce should be somewhat thick, but not glue-like! Toss in the cilantro and serve over rice.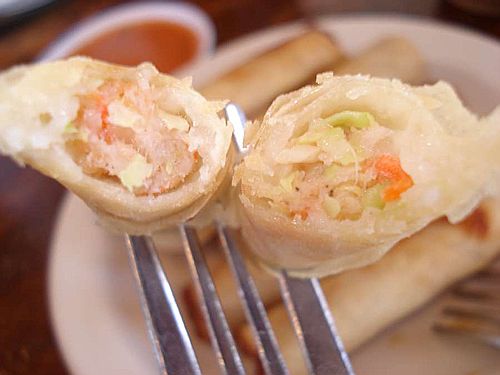 Chicken and Shrimp Egg Rolls

1/2 oz dried wood ear mushrooms (about 2) Yield: 30 egg rolls
6 oz ground chicken
1/4 lb shrimp, finely chopped
1 whole large egg, lightly beaten

1/4 cup chopped fresh cilantro
1 tablespoon finely grated peeled fresh ginger
1 scallion, finely chopped
2 small garlic cloves, finely chopped
Rounded 1/4 teaspoon salt
30 Egg roll wrappers

1 egg yolk + 1T water, beat together (for sealing)

For frying…vegetable oil

1. Cover mushrooms with hot water by 1 inch in a bowl and soak 20 minutes (mushrooms will expand). Drain in a strainer and rinse thoroughly, then drain again. Trim off and discard any hard parts from mushrooms, then finely chop (about 3 T).

2. Stir together mushrooms, pork, crabmeat, beaten whole egg, cilantro, ginger, scallion, garlic, and salt in a bowl with a spoon until combined well.

3. Put 1 tablespoon filling at one end of the wrapper and wrap tightly, burrito style. Dab top edge with some yolk to seal. Put roll, seam side down, on tray and loosely cover with plastic wrap. Make more rolls in same manner, transferring to tray and arranging 1/2 inch apart. Keep loosely covered until ready to fry. These can be frozen at this point for up to a month.

4. Heat about 1 inch of oil in a 5- to 6-quart pot over moderately high heat until it registers 365°F on thermometer. Fry rolls in batches of 5 or 6, keeping rolls apart during first minute of frying to prevent sticking and stirring occasionally, until golden brown and cooked through, 5 to 6 minutes. Transfer as fried with a slotted spoon to paper towels to drain. (Return oil to 365°F between batches.)
FRIED RICE

Serves: 4

3C cooked rice

4 – 6 T vegetable oil

1 t chopped garlic

2 eggs

1 T fish sauce

2 T soy sauce

1 T oyster sauce

½ t black pepper

¼ C green peas or vegetables

OPTIONAL INGREDIENTS:

Cilantro, chopped

Carrots, cubed and sautéed

Green onion, thinly sliced

Chiles, minced

1. Prepare 3C cooked rice, which would be 1 ½ C raw rice. Cool

completely after cooking and it is best used for fried rice, the next day.

2. Break the eggs into a bowl, scramble and set aside. Heat oil in a wok (or large frying pan) until it is just about to smoke. Add garlic and stir-fry for 30 seconds. Increase heat to medium-high and fry the eggs cutting with a spatula for 2 minutes, until they're partially set.

3. Take the eggs out of the wok and add the rice, breaking up big clumps as needed. Add fish sauce, soy sauce and oyster sauce on the rice and then, using the shoveling motion, combine the ingredients in the wok, tossing-stirring for 2 minutes. Toss from the bottom up, so that all the rice has a chance to fry in the oil, and everything is integrated.

4. When all ingredients are hot, sprinkle black pepper on the rice, and then add the eggs and green peas.

5. Toss-stir for another minute, folding the peas into the rice and then remove from heat. Transfer to a serving dish and top with fresh chopped cilantro leaves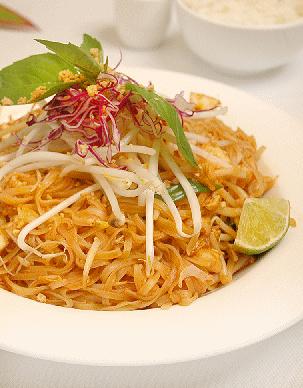 PAD THAI

(Stir-fried rice noodles)

Thailand

Yields: 3-4

½ pound flat rice noodles (chantaboon)

1 t vinegar

3 T fish sauce

1 t sugar

1 T tomato paste

T oil

1 T minced garlic

½ t sambal ulek or ground dried Chile

¼ pound small raw shrimp, peeled and deveined

¼ pound minced pork or chicken

2 eggs, lightly beaten

1 cup bean sprouts

Garnishes

1 T dried shrimp, ground in a mortar or finely minced

2 T peanuts, toasted and chopped

1 fresh red Chile, sliced

1 green onion, thinly sliced

1. In a bowl soak noodles in warm water until soft, about 15 minutes. In another bowl, combine vinegar, fish sauce, sugar, and tomato paste; stir to dissolve sugar. Set mixture aside. Drain noodles in a colander.

2. In a wok or deep skillet, heat 3 tablespoons oil over medium-high heat until a bit of garlic sizzles. Add garlic and sambal ulek and stir-fry until fragrant. Add shrimp and pork and stir-fry they lose their raw color. Add tomato paste mixture and bring to a boil. Toss noodles in sauce and cook, stirring, until noodles have absorbed sauce.

3. Use a spatula to lift or push the noodle mass away from the center of the pan. If pan looks dry, add another tablespoon of oil. Add eggs, allowing to cook 10 to 15 seconds, then setting noodle mass on top of egg. Stir and fold eggs and noodles together until egg is set. Stir bean sprouts.

4. Serve with garnishes sprinkled on in this order: first dried shrimp, then peanuts, Chile, and green dishes.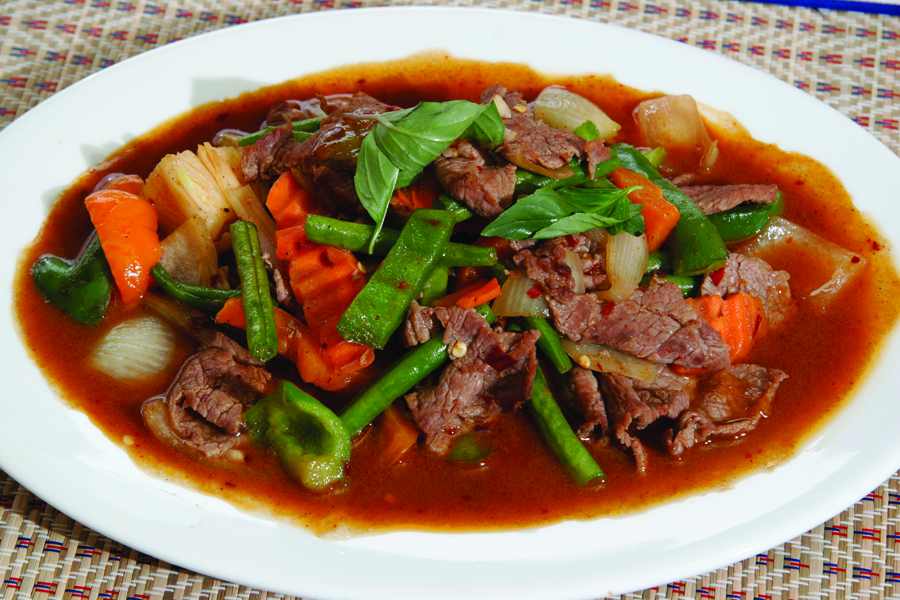 Thai-Style Spicy Beef Jantaboon

Yields: 6

1. Garlicky Marinade

2 Tablespoons soy sauce

1 Tablespoon minced garlic

1 teaspoon sugar

1 # lean flank steak, London broil, etc., trimmed into thin slices.

3½ T safflower or corn oil

2. Red- Hot Seasonings (Mix together)

1 T minced garlic

2 hot red chile peppers, seeded a & cut into thin rings

2 C 1-inch lengths scallion greens

3 C bean sprouts, rinsed & drained

3. Fragrant Tossing Sauce (Mix together)

¼ C soy sauce

¼ C Chinese rice wine or sake

3 T fish sauce

3 T sugar

6 ounces medium flat rice noodles (jantaboon), softened in hot water,

rinsed then drained

¼ C coarsely chopped fresh cilantro

3 T chopped dry-roasted peanuts

1. Combine the garlicky marinade ingredients in a large bowl. Add the meat and toss to coat.

2. Heat a wok or a heavy skillet over high heat. Add 2 Tablespoons of the oil and heat until almost smoking hot. Add the beef and stir-fry until the slices lose their pink color and separate. Remove with a handled strainer or a slotted spoon and drain in a colander. Wipe out the wok.

3. Reheat the wok, add the remaining 1 ½ Tablespoons oil, and heat until hot, about 20 seconds. Add the red-hot seasonings and stir-fry until fragrant, about 10 seconds. Add the bean sprouts, and toss lightly for 30 seconds. Add the fragrant tossing sauce, the noodles, and meat and toss lightly until the noodles absorb the sauce and are tender. Transfer to a platter, sprinkle with the cilantro and peanuts, and serve.