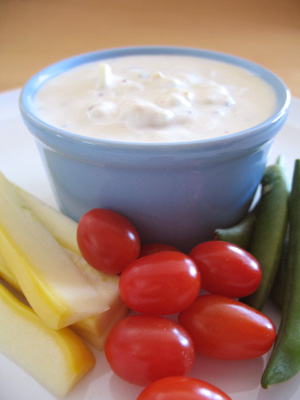 BLUE CHEESE SPREAD

8 oz. Blue cheese

8 oz. Cream cheese, softened

1 to 2 garlic cloves, minced

1T green onions, chopped finely

1t red wine vinegar

1 to 2T lemon juice

1T parsley, minced

Pepper to taste

1. Use the large holes on a box grater and grate the bits of blue cheese until they are the size of corn kernels.

2. In a bowl, mix together all of the above ingredients until thoroughly combined. You can all more cream cheese if you want to stretch the blue cheese.

3. Adjust seasonings and serve with crackers or baguettes.

Optional: You can easily make this into a dip by thinning with 1/2 and 1/2 until of the desired consistency.
Chipotle Cheesecake

Yields: 36

Tortilla Crust

1 cup crushed tortilla chips

3 T margarine or butter, melted

Mix ingredients until well blended. Press evenly in bottom of springform pan, 9x3 inches. Bake about 8 minutes or until golden brown.

Tortilla crush

2 packages (8 ounces each) cream cheese, softened

2 eggs

½ cup sour cream

2 cups shredded Colby-Monterey Jack cheese (8 ounces)

¼ cup chopped drained roasted red bell peppers (from 7 oz. can), seeded and chopped (2 Tablespoons)

1 T adobo sauce from can of chipotle chilies

Large tortilla chips, if desired

1. Heat oven to 375 degrees. Bake Tortilla Crust.

2. Reduce oven temperature to 325 degrees. Beat cream cheese in large bowl with electric mixer on medium speed until smooth. Add eggs; beat until well blended. Beat in sour cream. Stir in cheese, bell peppers, chipotle chilies and adobo sauce until well blended. Spoon evenly over crust.

3. Bake uncovered 40 to 45 minutes or until center is set. Run knife around edge of cheesecake to loosen. Cool completely at room temperature, about 2 hours. Cover and refrigerate at least 2 hours but no longer than 24 hours. Remove side of pan. Serve cheesecake with tortilla chips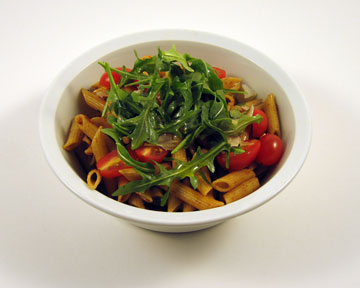 Feta & Sun-dried Tomato Pesto

Torta

Yield: 3 1/2 Cups

3/4 # feta cheese, crumbled

1/2 # cream cheese, softened

1/2 # unsalted butter, softened

1 clove garlic, peeled

1 shallot, peeled

white pepper to taste

3/4 C sun-dried tomato pesto

4-6 green onions, minced

1/4 C sesame seeds, toasted

2 18" squares of cheesecloth

5 Cup mold (I use new clay flower pots)

1. Combine the butter, cheeses, shallot, garlic and white pepper in a food processor bowl fitted with a metal blade and blend until mixture is smooth. Depending on the size of the food processor used, you may have to do this in two small batches and then combine both batches in one bowl and stir together.

2. Combine the tomato pesto, green onions, and sesame seeds in a separate bowl and mix thoroughly.

3. Wet the cheesecloth and squeezed out the excess water. Line the flowerpot with a double layer of the damp cheesecloth that hangs over the side of the pot about 3 inches or more.

4. Layer the cheese mixture first in the flowerpot (when inverted that will be the top of torta) and then top it with a layer of the tomato pesto mixture. Repeat this layering process until all of the cheese layer and sun-dried tomato is used up. You should have about 4 layers of each.

5.Wrap the cheesecloth over the top and gently press down to compact the layers. Refrigerate for at least 1-2 hours or until firm to the touch. Don't leave the cheese cloth on the torta for more than a couple of hours or it will "wick" the red color of the tomato pesto through the cream cheese mixture. 6.Can be prepared up to 5 days in advance. Serve with crackers, baguette slices, bagel chips, or vegetables, etc.
Flour Tortillas

4 C all purpose flour

2 t salt

1 t baking powder

¾ C shortening or lard

1 ½ C warm water

1. Mix flour, salt, and baking powder. Add shortening and warm water mix. Place lightly floured surface, knead until soft and smooth. Divide dough into 18 balls. Flatten each ball by hand. Use rolling pin to shape dough into thin 8" circles.

2. Place tortilla on a hot skillet (do not grease the skillet), cook each side 45 seconds until lightly speckled. Stack cooked tortillas under a dry towel. Serve warm.

REFRIED BEANS

TO COOK THE BEANS:

1 cup dried pinto beans

¼ t. baking soda (optional)

1. Wash beans thoroughly. Place in deep pot with 3 c. water. Bring to boil and slowly add baking soda to "de-gas" the beans. Remove heat, skim off foam, cover and let stand in liquid 1 hour. Cool and refrigerate if not using immediately.

2. Add 2 c. more water to beans. Bring to boil, reduce heat and simmer 1 hour, stirring once, until beans are tender. Salt beans and serve as is or make refried beans below.

TO REFRY BEANS:

1. First strain the cooked beans and do not throw away the liquid.

2. Heat 3 T oil in a skillet over medium heat, add cooked strained beans and 1 ½ C retained bean liquid. Add salt (only if you did not add it above!), mash until smooth and cook until liquid is mostly absorbed.