Croutons

Yield: 3 cups

2 T margarine

2T olive oil

2 large garlic cloves, minced

8 slices bread, cut into 3/4" cubes (or larger)

Seasonings—Italian, basil, rosemary, oregano,

Etc. (Optional—depending what you want!)

Salt and pepper

1. Preheat oven to 350 degrees. Melt the margarine, oil, garlic and seasonings in a small saucepan. Take off the heat.

2. Place bread cubes on a cookie sheet (with sides), then pour melted margarine mixture over the cubes, tossing well to coat.

3. Bake until bread cubes are golden brown and crisp, about 20 minutes. Season with salt and pepper while still warm.

4. Cool completely then store in an airtight container or plastic bag. Store at room temperature.
Herbed Buttermilk Dressing
1 C Buttermilk, well shaken
1/2 C Mayonnaise

2 T Oil

1 T Lemon Juice

2 Garlic cloves, minced

2 T Fresh chives

1 T Flat Leaf Parsley

1/4 t Salt

1/8 t pepper
Combine all ingredients in a blender and then refrigerate.
Balsamic Vinaigrette

Yield: 1 1/2 C

1 C Olive Oil

1/2C Balsamic vinegar (white or dark)

1 1/2 t Dijon mustard

1 Large clove garlic

Salt and Pepper to taste

1. In a medium bowl, use a wire whip and beat together the above ingredients until thickened and creamy.

2. Keeps refrigerated when not using.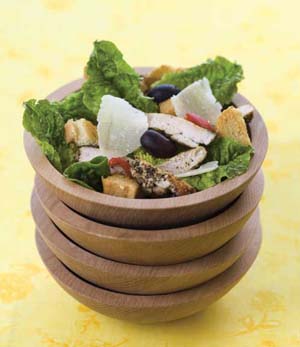 Mediterranean Chicken Salad

3 cups diced cooked chicken

12oz corkscrew pasta, cooked and chilled

1 C cherry tomatoes, cut in 1/2

1/2 C olives, sliced

1 1/2 to 2 t capers

1/2 C canned artichoke hearts, quartered

1/4 C red onions, thinly sliced

1/2 C Red Bell Peppers, julienne
Balsamic Vinegar Dressing (1/2 recipe below)
1. Boil a large pot of water with a large pinch of salt in it. When water is rapidly boiling stir in pasta. Cook stirring now and then until pasta is done…when it is al dente ("to the tooth"- you have to taste it!). Cool hot pasta in a colander, by running cold water on it until no longer hot. Add 1 T olive oil and toss. Refrigerate.

Toss Balsamic Vinaigrette with the pasta until thoroughly coated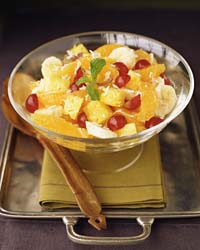 Fruit Ambrosia

1 can chunky pineapple
1 can tropical fruit cocktail
1 can mandarin oranges

¼ C Maraschino cherries, drained

on a paper towel and then quartered
2 C nonfat sour cream
1/2 bag miniature marshmallows
½ C coconut, optional

1. Drain the liquid from all the cans of fruit in a colander for about 10 to 15 minutes. Set aside some liquid in case the sour cream needs to be thinned.

2. Mix all the fruit together, making sure to not over stir and break up the fruit.

3. Fold the marshmallows into the sour cream (add the coconut now, if desired) and fold into the fruit mixture. Refrigerate overnight so flavors will blend together. Serve cold.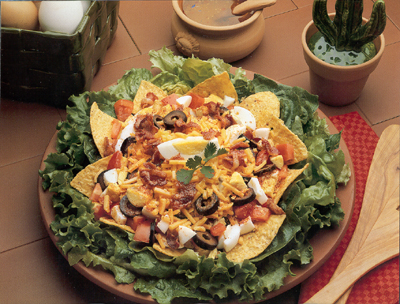 Taco Salad

1 # lean ground beef 6 servings

1 medium onion, finely chopped

3 clovers garlic, minced

1T oil

2 C pinto beans (and garbanzo beans, drained—Optional)

2 t ground cumin

2 T California chile powder

Salt and pepper

½ C tomato sauce

1 head romaine lettuce, shredded

1C shredded cheddar cheese

2 medium firm tomatoes, cut into cubes

½ red onions, sliced into thin rings

½ C black olives, sliced

1 avocado, cubed

¼ C cilantro leaves

4 C tortilla chips

Chipotle Sour Cream Topping: Mix together in a bowl, 2 T chopped chipotle in adobo sauce, 1 C low fat sour cream and 2-4 T milk to make a tin sauce, add salt as needed

1. Saute the onions in the oil in a small sauté pan until soft but not brown. Add the garlic the last minute or so. Set aside.

2. Brown the ground beef in a separate large pan and drain the fat into a bowl using a colander.

3. Put the ground beef, onion and garlic mixture and beans back

in the large pan. Add the cumin, chile, salt, pepper and tomato sauce and adjust seasonings. Heat until the desired

temperature. Set aside.

4. Have all of the other ingredients prepared and layer the

ingredients on a platter as follows: Chips are put down first, then the lettuce, ground beef, tomatoes, olives, avocado, red onion and cheddar cheese and cilantro leaves. Serve with chipotle topping.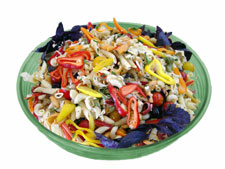 ASIAN PASTA SALAD

w/Peanut Dressing

DRESSING:

One ½-inch-thick slice fresh ginger, peeled

8 cloves garlic, peeled

½ C smooth peanut butter

1 to 2 t chili flakes

¼ C soy sauce

¼ C sugar

3 T Chinese black vinegar or Worcestershire sauce

1 T toasted sesame oil

¼ C water

1. In a food processor fitted with the metal blade, chop ginger &garlic.

2. Add the rest of the ingredients and process until the consistency of heavy cream. Add ingredients until flavor is what you want.

SALAD:

1 lb. Chinese dried noodles

3 carrots, peeled and julienne

1 red bell pepper, julienne

1 bunch green onions, sliced thinly (slice only ½ of the green part)

1 C cilantro leaves

1 cucumber, peeled thinly, sliced then halved

1. Cook the pasta in boiling, salted water until al dente & then

cooled it in cold water. If storing overnight in the refrigerator,

toss cold pasta with 2T olive oil.

2. Toss together all the vegetables in a large bowl.

3. Add pasta, toss, then add enough dressing right before serving

salad…adjust the amount of dressing. Best served at room temp
Penne Pasta Salad with a

Parmesan Balsamic Vinaigrette

12 oz penne pasta, cooked until al dente, Yield: 4 servings

then cooled completely

½ large red bell pepper, julienne

½ large green bell pepper, julienne

10 mushrooms, washed and thinly sliced

¼ C thinly sliced red onions (optional)

¼ C black olives, sliced

2 T pine nuts, lightly roasted

2 oz. salami slices, julienne

1. Toss all ingredients together and add the dressing below…you may need to make 1 ½ of the dressing for this pasta salad if you like it reall moist. Refrigerate overnight

Parmesan Balsamic Vinaigrette

1 garlic clove, minced

½ t salt

2T white balsamic vinegar

1t fresh lemon juice

3T minced fresh basil

¼ C grated parmesan cheese

¼ t pepper

½C olive oil

1. In a blender jar, throw together all ingredients except for the olive oil. Blend until smooth. Slowly add the olive oil and blend

until well mixed together.