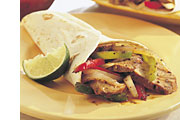 FAJITAS

6 flour tortillas

¾ lb. boneless chicken breast

½ ea: green, red, yellow peppers, onion

1T teriyaki sauce

½ 1 large tomato, cut into wedges

MARINADE

1T lemon juice

11/2 t each: ground cumin, chili powder

1T finely chopped cilantro

Salt/pepper to taste

1. Wash and skin chicken, pat dry. Cut chicken in long strips. Mix marinade and add in chicken and marinate for 30 minutes. Cut peppers length-wise and thinly slice onion.

2. Heat oil in skillet over high heat, add vegetables, fry until lightly brown and put onto a clean plate. Add and fry chicken until cooked. Mix veggies, teriyaki, and chicken in the skillet and sauté for 1 minute. Serve with warm tortillas.

3. Salsa, sour cream, and avocado mix go well with this dish along with refried beans. Top with tomato.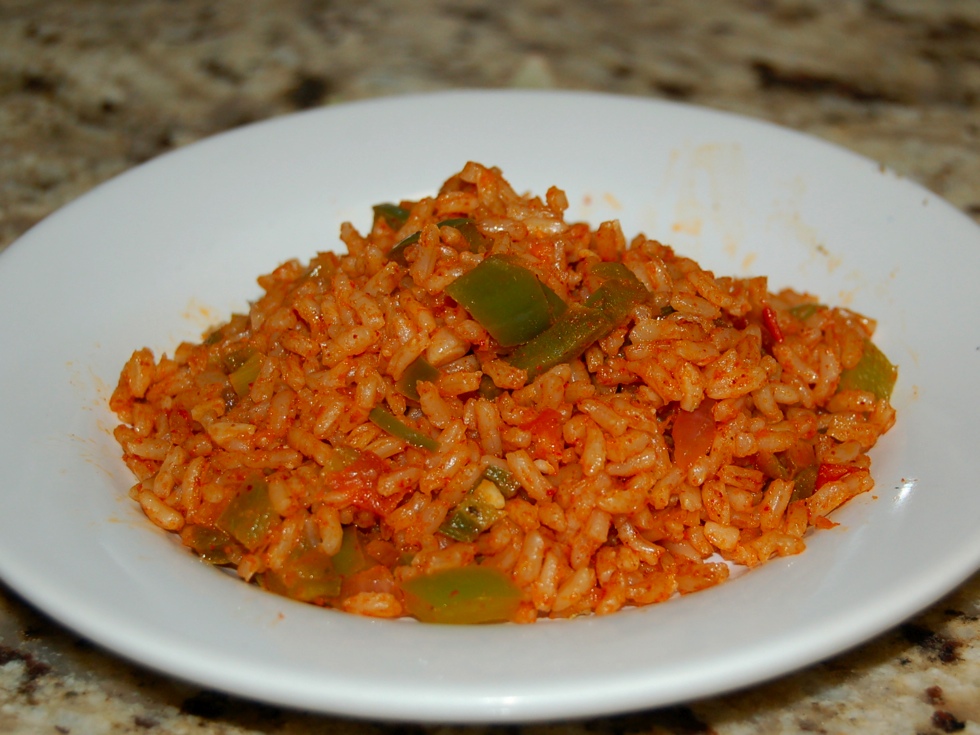 El Zorro's Spanish Rice

1 C long-grain rice

1/2 C chopped onions

2T oil

1 garlic clove, minced

1t salt

2 tomatoes, chopped (2 large canned tomatoes)

1T chopped parsley

1 C chicken broth and water

1/2 C tomato sauce

1. Heat oil in a skillet over medium heat and add rice, sauté about 15 minutes until lightly brown.

2. To the rice, add the chopped onions and garlic clove, sauté until rice is golden brown.

3. Add salt to taste, the tomatoes, chopped parsley, chicken broth, water, and tomato sauce.

Mix, bring to boil, reduce heat, cover and simmer 30 min. until liquid is absorbed and rice is tender. Add water if needed. When the rice is done, toss with a fork.
Mexican Shortened Cookies

Yield: 36 cookies

1 cup butter

½ cup sifted powered sugar

1 Tablespoon water

1 teaspoon vanilla

2 cups all-purpose flour

½ cup ground toasted almonds

¼ teaspoon ground cinnamon or 2 teaspoon finely shredded orange peel

¾ to 1 cup sifted powdered sugar

1. In a medium mixing bowl beat butter with an electric mixer on medium to high speed for 30 seconds. Add the ½ cup powdered sugar and beat until fluffy. Beat in the water and vanilla until combined. Beat in as much of the flour as you can with the mixer. Stir in any remaining flour, almonds, and cinnamon or orange peel. If necessary, chill the dough for 1 hour or until easy to handle.

2. Shape dough into 1-inch balls. Place on an ungreased cookie sheet.

3. Bake in a 325 degrees oven about 20 minutes or until bottoms are lightly browned. Cool cookies on a wire rack. Gently shake cooled cookies, a few at a time, in a plastic bag with the ¾ to 1 cup powdered sugar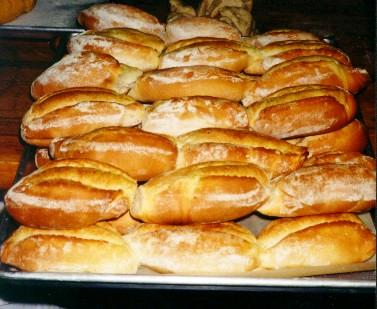 Bolillos

1/4 c vegetable shortening

1 1/2 c water

2 T sugar

1 1/2 t salt
1T active dry yeast
1t sugar

1/4 c warm water

3 1/2 all-purpose flour

(Extra flour for handling)

1 egg, beaten

1. Heat vegetable shortening, 1 1/2c water, 2 T sugar, and salt in pan until shortening melt, let cool to lukewarm. Mix active dry yeast, 1 t sugar, and warm water in large bowl, let stand until foamy; Mix in vegetable shortening, water, sugar, salt and flour.

2. Place dough on bowled surface and knead until smooth. Put dough on greased bowl, turn to grease all sides, cover, place in warm area and let rise for an hour.

3. Place dough on floured surface, knead briefly and form into 12 smooth 4" oblong rolls. Then place on greased baking sheets, cover, let rise 35 min. Cut a 2" slice down center of each roll, brush rolls with egg. Bake for 20 min. at 375 Fahrenheit until slightly brown.