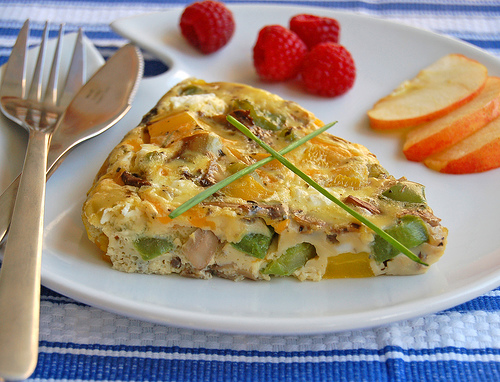 Frittata with Cheese and Zucchini


12 large eggs Makes 4 to 6 servings.
1/4 cup milk
1 1/2 cups grated jack cheese
4 green onions, thinly sliced

3 zucchini, thinly sliced

1/3 cup fresh basil leaves, finely chopped

1/2 teaspoon salt

1/4 teaspoon ground black pepper

1/4 cup (1/2 stick) butter

3 tablespoons freshly grated Parmesan cheese

Preheat broiler. Whisk eggs and milk in large bowl to blend. Stir in jack cheese, zucchini, onions, basil, salt, and pepper. Melt butter in large ovenproof nonstick skillet over medium-high heat. Add egg mixture; do not stir. Cook until eggs start to firm and sides and bottom begin to brown, lifting sides occasionally to let uncooked egg run underneath, about 5 minutes. Sprinkle with Parmesan cheese. Transfer skillet to broiler and cook until eggs start to puff and brown, about 2 minutes. Using flexible spatula, loosen edges and bottom of frittata. Slide out onto plate. Slice frittata into wedges. Serve warm or at room temperature.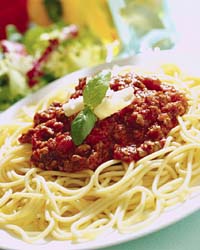 Spaghetti Bolognese

1 T olive oil
2 ounces bacon or pancetta, diced (can be omitted!!)
1 1/2 C chopped yellow onions
3/4 C finely diced carrots and diced celery
1 T minced garlic
2 bay leaves
½ t dried thyme
1/4 t dried oregano
1 pound ground beef, cooked and drained
1/2 pound pork sausage, removed from the casings, cooked and drained
2 T tomato paste
1/2 C red wine
1 (29-ounce) cans crushed tomatoes and their juice
1 (14 1/2-ounce) can tomato sauce
1 cup beef or chicken stock or broth
2 t sugar
1/4 C heavy cream (optional)
3 T chopped fresh parsley leaves

Salt and pepper to taste


1 pound spaghetti, cooked
1 C freshly grated Parmesan

1. In a large stockpot, cook the meat together and drain into a bowl lined

a with a colander. Throw away the drained liquid. Heat the oil over

medium-high heat. Add the bacon and cook, stirring, until browned and the fat is rendered, 4 to 5 minutes. Add the onions, carrots and celery and cook, stirring, until soft, 4 to 5 minutes.

2. Add the garlic, salt, pepper, bay leaves, thyme, oregano, stirring, for 30 seconds. Add the cooked beef and sausages.

3. Add the tomato paste and the wine and cook, stirring, to deglaze the pan and remove any browned bits sticking to the bottom of the pan. Cook for about 3 minutes until well blended.

4. Add the tomatoes and their juices, the tomato sauce, broth, and sugar and bring to a boil. Reduce the heat to medium-low and simmer, stirring occasionally; to keep the sauce from sticking to the bottom of the pan, and until the sauce is thickened and flavorful, about 1 1/2 hours. Add the cream and parsley, stir well, and simmer for 2 minutes. Discard the bay leaves and adjust the seasonings, salt and pepper to taste. Remove from the heat and cover to keep warm until ready to serve.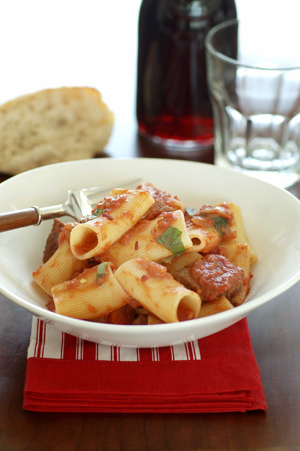 Rigatoni w/meat and cheese sauce

3C dried rigatoni, boiled until al dente

For the cheese sauce

1/4 C of butter

1/2 C plain flour

2 C of milk

1/2 C of freshly cut grated

Parmesan cheese

For the meat sauce

1 T olive oil

12oz ground beef

1 onion, chopped

1 garlic clove, chopped

14oz can chop tomatoes

1 t dried mixed herbs

2 T tomatoes pure

1. To make the sauce, heat the oil in a large frying pan and fry the beef for 10 minutes. Stir occasionally until brown all over. Add the onion to the pan and cook for 5 minutes. Stir occasionally.

2. Stir in the garlic, tomatoes, herbs, and tomato puree. Bring to the boil, cover, and simmer for about 30 minutes.

3. Meanwhile, to make the cheese sauce, melt the butter in a small saucepan, then adding the flour and cook for 2 minutes, stir occasionally.

4. Remove the pan from the heat and gradually pour in the milk, stirring constantly. Return the pan to the heat and bring to boil, stirring the mixture occasionally, until creamy and thickened.

5. Add cheese and seasoning and stir until the sauce is well blended and thicken broiler.

6. Preheat; meanwhile cook the pasta in plenty of salted boiling water according to the instructions on the packet. Drain thoroughly and tip into a large mixing bowl. Pour the meat sauce over and toss to coat.

7. Divide the pasta among four flame proof dishes. Spoon over the cheese sauce and place under the grill until brown. Serve immediately garnishes with fresh basils.
Lasagne Al Forno

Creamy Baked Lasagne

2 lbs ground lean beef Serves: 8.

1 large onion, finely chopped

2 stalks celery, finely chopped

2 medium-size carrots, finely chopped

6 to 8 cloves garlic, minced

6 oz tomato paste

25 oz whole tomatoes

1 1/2 t basil and oregano

1/2 t dried rosemary (or 1t fresh)

12-16 packaged lasagna noodles

8 oz. mozzarella cheese

1/2 C grated Parmesan

Cheese Sauce:

1/4C butter or margarine

1 onion finely chopped

1/4C flour

1/8t nutmeg

14oz beef broth

1C milk

8 oz (2C) fontina or jack cheese, shredded

1. Cook ground beef, onion, celery and carrots, stirring until meat is lightly browned. Drain off fat. Add tomato paste, whole tomatoes, basil, and rosemary…cook until mixture is very thick.

2. Cook pasta in a large stockpot in salted water, rinse in cold water when al dente and lay out pasta on a cookie sheet when cool.

3. To make cheese sauce: in a medium size saucepan, melt butter and add onion, cook until onion is soft. Stir in flour, nutmeg and cook, stirring until bubbly. Gradually whip in the beef broth, milk and cook stirring constantly until sauce is thickened slightly….Add cheese, take off heat.

4. To Assemble Lasagna: In a 13 x 9 baking dish, spread a little red sauce on the bottom, cover with the lasagna noodles. Cover the noodles with 1/4 meat sauce, 1/4 cheese and 1/4 cheese sauce. Repeat this layering 3 more times, ending with cheese sauce and sprinkle top with Parmesan, then jack cheese.

5. Bake, uncovered, in a 375 degree oven for 25-35 minutes or until hot and bubbly.